SK Global Chemical and Aekyung Industrial jointly develop natural cosmetics containers.
financial news 2021.3.28.
eco-plastic circulation system business agreement signed.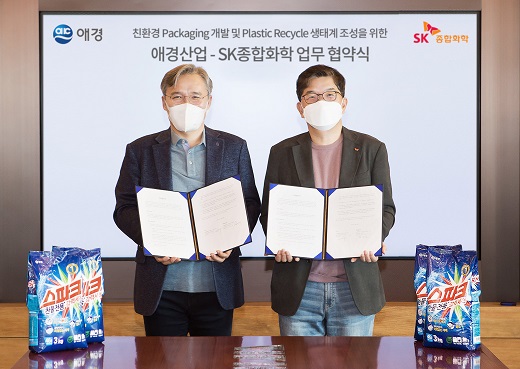 [Provided by SK Global Chemical]
Aekyung Industrial, a lifestyle beauty company, and SK Global Chemical, a subsidiary of SK Innovation, Joined hands to create an eco-plastic circulation system.
Aekyung Industrial and SK Global Chemical announced on the 28th that they have signed a business agreement to create an eco-plastic circulation system
at SK Seorin Building in Jongnogu, Seoul on the 26th. This signing ceremony was attended by Aekyung industrial CEO Lim Jae-young and SK Global Chemical President Na Kyung-soo.
Aekyung Industrial said, " Through a business agreement with SK Global Chemical, which has eco-plastic production technology, it is expected to establish an eco-plastic circulation system and create synergy. Aekyung Industrial will recognize the seriousness of the plastic problem and will continue to strive to develop sustainable packaging and environmentally products.
In accordance with this business agreement, the two companies will cooperate in areas such as consolidation of household goods and cosmetics packaging, development of white and transparent packaging, plastic container collection and recycling campaigns to facilitate recycling of waste plastics.
Since 2019, SK Global Chemical has prepared a place where the packaging industry, such as packaging manufacturing, food, distribution, and logistics, can gather, and has discussed cooperation mothod to reduce packaging waste.
In particular, as SK Global Chemical leads in establishing a recycling system for waste plastics by expanding the development of eco- packaging, it is expected to further accelerate the creation of an eco-plastic ecosystem through cooperation with the distribution industry.

Na Kyung-soo, president of SK Global Chemical said, "SK Global Chemical is expanding its eco-packaging business in order to implement 'More Green, Less Carbon' through green business. Also, he emphasized to create a plastics circulation system in various fields with Aekyung industrial and more companies.
eco@fnnews.com Ahn Tae-ho reporter
SK종합화학·애경산업, 친환경 화장품 용기 공동 개발한다
파이낸셜뉴스2021.03.28.
친환경 플라스틱 순환체계 업무협약 체결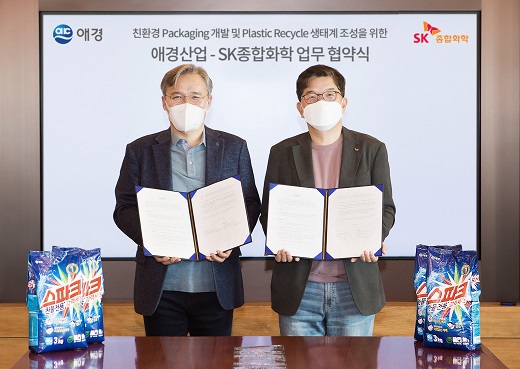 [SK종합화학 제공]
생활뷰티기업 애경산업과 SK이노베이션의 자회사 SK종합화학이 친환경 플라스틱 생태계 조성을 위해 손을 잡았다.

애경산업과 SK종합화학은 지난 26일 서울 종로구 소재 SK서린빌딩에서 친환경 플라스틱 순환체계 조성을 위한 업무협약을 체결했다고 28일 밝혔다. 이번 협약식에는 애경산업 임재영 대표이사와 SK종합화학 나경수 사장이 참석했다.

애경산업은 "친환경 플라스틱 생산 기술을 보유한 SK종합화학과의 업무협약을 통해 친환경 플라스틱 순환체계를 구축하고 시너지를 창출할 것으로 기대된다"며 "애경산업은 플라스틱 문제의 심각성을 인지하고 지속가능한 패키징과 환경을 배려하는 제품을 개발하도록 지속적으로 노력하겠다"고 말했다.

이번 업무협약에 따라 양사는 폐플라스틱 재활용이 용이토록 △생활용품·화장품 패키징 단일 소재화 △백색·투명 패키징 개발 △플라스틱 용기 회수 및 재활용 캠페인 등 분야에서 협력한다.

SK종합화학은 지난 2019년부터 패키징 산업의 ESG정착을 위해 패키징 제조와 식품·유통·물류 등 패키징 업계가 모일 수 있는 자리를 마련하고, 패키징 폐기물 감축 등을 위한 협업 방안을 논의해왔다. 특히 SK종합화학이 친환경 패키징 개발, 열분해유 사업 확대 등을 통해 폐플라스틱 순환체계 구축에 앞장서고 있다는 점에서 유통 업계와의 협력을 통해 친환경 플라스틱 생태계 조성을 한층 앞당길 것으로 기대된다.

SK종합화학 나경수 사장은 "SK종합화학은 그린비즈니스를 통한 '모어 그린, 레스 카본(More Green, Less Carbon)' 실행 차원에서 친환경 패키징 사업을 확대하고 있다"며 "애경산업을 비롯해 더 많은 기업들과 함께 다양한 분야에서 플라스틱 순환체계를 조성해 나가겠다"고 강조했다.
​

eco@fnnews.com 안태호 기자