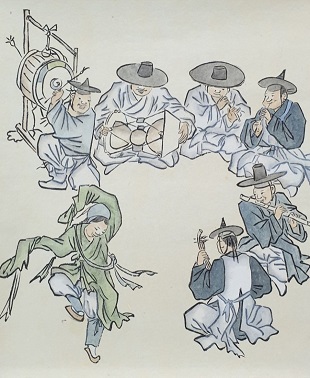 This painting is Kim Hong-do's "Dancing Child," known as a custom painter during the Joseon Dynasty.
Kim Hong-do's paintings expressed the daily lives of ordinary people in a humorous and humorous way during the Joseon Dynasty. His paintings show what Korean laughter is.
I chose this picture to impress you on Korean instruments. The star of this painting is a dancing child. So the title of this picture is "A Dancing Child".
And musicians are sitting around in the back. There are six musicians in total.
It consists of two flute, Daegeum, Haegeum, Janggu, and Buk, and is called Samhyeon hexagon.
The far left is the drum. This person sits awkwardly to match the fast rhythm. Next to it is Janggu. If you look at the shoulder line of the musician, he is riding the rhythm like a winding dance.
The next is the flute. The musician held the flute crookedly, perhaps because his mouth hurt. This flute is similar to the Western oboe.
The next is a thin flute. The musician's two cheeks swelled up as he blew the wind into the thin hole. The next is a long flute. This is similar to the Western flute. It makes an elegant and cool sound. The last instrument is called Haegeum, similar to the Western violin. This instrument makes a sound by rubbing two strings with a bow.